Canada showed up to the WFTDA Continental Cup North America West this year with 3 out of the 12 teams being Canadian. And 2 out of those 3 being Albertan! This was the first year of the Continental Cup format for the WFTDA, switching the Div 2 format into 3 regional tournaments; NA West, NA East, and Europe.
Alberta teams E-Ville Dead (Edmonton) and CRDA All-Stars (Calgary) both competed in the Continental Cup this year. CRDA came into the tournament seed 5 and E-Ville came in seed 6. Both teams showed the power that Alberta has to offer, each winning their first games.
E-Ville Captain Tron had this to say about the team's weekend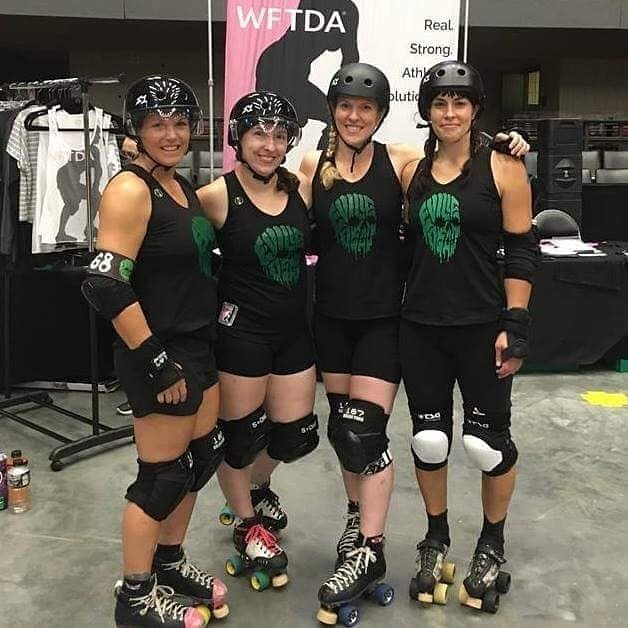 "On August 23rd the E-Ville Dead woke up insanely early to fly to Omaha, Nebraska and compete in the inaugural North America West Continental Cup! Our first game, and the first of the tournament, was Friday morning against the Pike's Peak Derby Dames from Colorado. The score reflected the seeding and ranking difference between the teams, and we skated away 279-88. Winning game 1 set us up to play a familiar opponent, Tucson's Saddletramps. We first met Tucson at Division 2 playoffs in Pittsburgh last year where they won 250-149. Earlier this year we travelled to their invitational and left with a similar result, 295-185. Playing for a medal this weekend would rely on us getting past a difficult opponent, and although we were not successful in that we were proud to close our previous differential considerably, with a final score of 171-154 for Tucson. Our third and final opponent were also not strangers to us. Happy Valley Derby Darlins were one of our first opponents in sanctioned WFTDA play, and we had played them 3 times before our match in Omaha. All 3 times we were able to put up decisive wins, despite Happy Valley coming back stronger every time, and this game was no different. Final score 217-115 for E-Ville!"
E-Ville finished in the top of the tournament, exact positions were not determined.
After winning game 1, CRDA played against Terminal City Rollergirls, a match up that has seen Terminal City win previously this year. CRDA showed their training and team work by taking the win. A proud victory felt on the bench I am sure. The semi-final game was a nail clincher against Rocky Mountain Roller Girls, but unfortunately Rocky Mountain took the win to the finals. CRDA went on to the bronze medal game against Tucson Roller Derby for the win.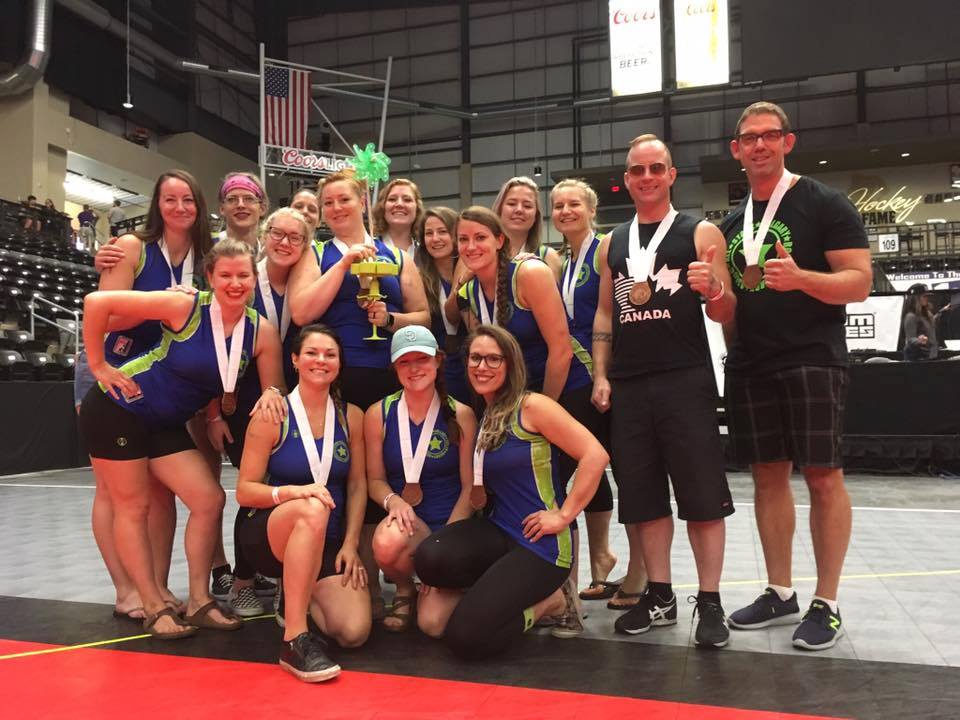 Read more on CRDA's take on the tournament on their website: http://newjam.calgaryrollerderby.com/calgary-roller-derby-wins-bronze-at-wftda-continental-cup/
Congratulations to both teams on a successful WFTDA season. I can't wait to see what Alberta shows the world in 2019!